COBALT CIVIL
Locally Owned Civil Utility Services Company
Cobalt Civil was founded in 1978 as Culy Construction & Excavating.
Safety is our number one core value at Cobalt Civil.
Contact Us Today For Your Next Project!
Providing safety leadership is a fundamental part of our business and Cobalt Civil requires individual accountability.
Cobalt Civil Commitment to Safety...
Cobalt Civil's objective is a safety and health program that will reduce the number of injuries and illnesses to an absolute minimum, not merely in keeping with but surpassing the best experience of operations similar to ours. By doing so, we will be able to achieve our goal of zero incidents and/or injuries to assure that all employees return home in the same condition they arrived to work in.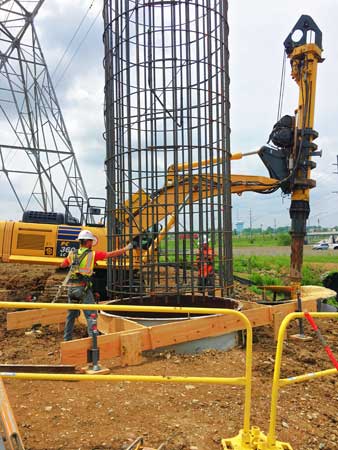 COBALT CIVIL IS A UTILITY CIVIL SERVICE COMPANY
Our Primary Focus is on Substation Construction, Transmission Access Roads Foundations, Underground Distribution, and Municipal Sewer & Water Services.
Foundations
Substation Construction
Hydro-Excavation
Installation & Maintenance
Commitment to Safety
Transmission Access Roads
Substation Demolition
Underground Distribution
Cobalt Civil
Cobalt Civil, LLC
PO Box 406
610 N 100 East
Winchester, IN 47394
Phone
(765) 584-2866
COBALT CIVIL ENVIRONMENTAL
Steady progress has been made in the construction industry to regulate its impact on the surrounding environment when performing any type of construction or excavation work. Cobalt strives to be good stewards of the land by adapting state and customer environmental standards in those sensitive areas like wetlands, streams, lakes, or waterways. Our Storm Water Pollution Prevention Plan (SWPPP) and environmental procedures integrate our environmental responsibilities into business practices.
Pre-construction environmental site inspection for a firsthand look after the site plan review
Required SWPPP permits are posted onsite in a weather-proof cabinet
Use industry BMP's (best management practices) in correlation with stabilizing disturbed soil (pre- and post-construction), reclamation areas, and use of SWPPP inspection frequency per requested site location
Multiple points of onsite inspection to keep all environmental facets in compliance
Spill Prevention Control and Counter (SPCC) measure manual and spill prevention training ensures that each employee understands how to immediately respond and report any spill or environmental hazard that may occur
Internal reviews of all inspections filed to analyze findings for corrective action needed or quality issues relating to a deficiency in order to correct
Our environmental inspectors receive training through private agencies, such as, Stormwater ONE, and the White River Alliance MS4 Training, and various state agencies including MDEQ, TNEPSC, and VADEQ. All environmental inspectors receive a 40-hour field practicum and complete continuing education in the field of SWPPP. Cobalt is working to become ISO 1400 certified.